The 2017 Dublin Tech Summit was held over 15-16th February at the Dublin Conference Centre, with 8 stages, over 10,000 attendees and featuring over 200 speakers and investors. Key themes this year included Creative Technologies, Internet of Things, Fintech, Medtech and Big Data.
On the first morning all the focus in the foyer was on a very beautifully made robot (RoboThespian), which was singing, dancing and chatting. I think most people assumed it to be not much more than a glamorous automaton, so we were all rather taken aback when RoboThespian appeared as a panellist in one of the first sessions!
OK, it turned out he was being voiced by his creator Will Jackson, but that very much set the tone for the next two days – there was a tremendous sense from the speakers that things were moving more quickly than even the market leaders could comprehend. Developments which had been predicted to take place in 10-20 years were now expected to happen in the next 2-5 years.
Marc Carrel-Billiard, Global Technology R&D Lead at Accenture, outlined recent developments in Artificial Intelligence (AI), describing it as "the new UI" (User Interface) and predicting that it would be integrated into almost every business sector in the next few years.
Next up was James Kretchmar of Akamai Technologies, who gave an insight into the likely internet trends in mobile & performance, video, security, networking and IoT based on Akamai's latest "State of the Internet" report. James predicted huge changes in the underlying technologies of the internet, creating an explosion of new ideas and business models.
James also took part in a panel discussion on Utilising the Power of Big Data with Dongbai Guo, CTO at AliExpress, Donal Byrne, CEO of Corvil and Mike Butcher, Editor At Large at TechCrunch.
Norm Johnston, Global Chief Strategy & Digital Officer at Mindshare Worldwide, gave a talk on the Third Wave of Digital Disruption. He outlined the three main aspects of the 3rd wave of digital disruption – interaction, immersion & integration – and explained that over the next few years, consumers will see an explosion of devices and objects connected to the Internet including anything from your car to your body.
Over 130 million wearable technology devices alone will be shipped in 2018, and by 2020 some 50 billion "things" will be plugged into the Cloud. New digital connections ranging from bio-metric targeted advertising to new branded utilities and experiences will bring more data and greater marketing opportunities for brands to better connect with and service consumers. He also noted the growth in AI, reflecting that there were just two Google AI projects in 2012 – but 2,000 in 2016.

Steve Hatch, Facebook's Regional Director in Northern Europe, discussed the magic of creative technology and noted that the only thing that currently moves faster than technology is our expectations of it. "If it works, it's obsolete."
Dr. Jonathan Reichental, currently the Chief Information Officer (CIO) for the City of Palo Alto, gave a fascinating talk on the multi-trillion dollar global opportunity for technologists and entrepreneurs to reinvent our cities for the 21st Century. He argued that government services should be as user friendly as your favourite app and examined what might be stopping that happen.

I also really enjoyed Chris Fabian's talk – Chris co-leads UNICEF's Innovation Unit alongside Erica Kochi, working on finding solutions to big problems that face humanity, particularly children.
He is best known for his work on tools for children and communities in low-infrastructure environments. In 2015 he led on the launch of UNICEF's Innovation Fund, a pooled funding vehicle built to quickly assess, fund and scale companies, teams, and ideas that have been developed in new and emerging markets. In 2013, he and Kochi were selected by Time magazine to be on the Time 100 list of the 100 most influential people in the world.
Not all the talks were videoed, unfortunately – notably Steve Hegenderfer's talk,  "IoT On The Rise: Standardizing Technology & Encouraging Collaboration Are Crucial". He explained how Bluetooth's increased range, speed, and broadcast messaging capacity, along with mesh networking, could transform what an IoT solution can and should be. Mesh networking enables Bluetooth devices to connect in networks across a building, opening up home & industrial automation applications.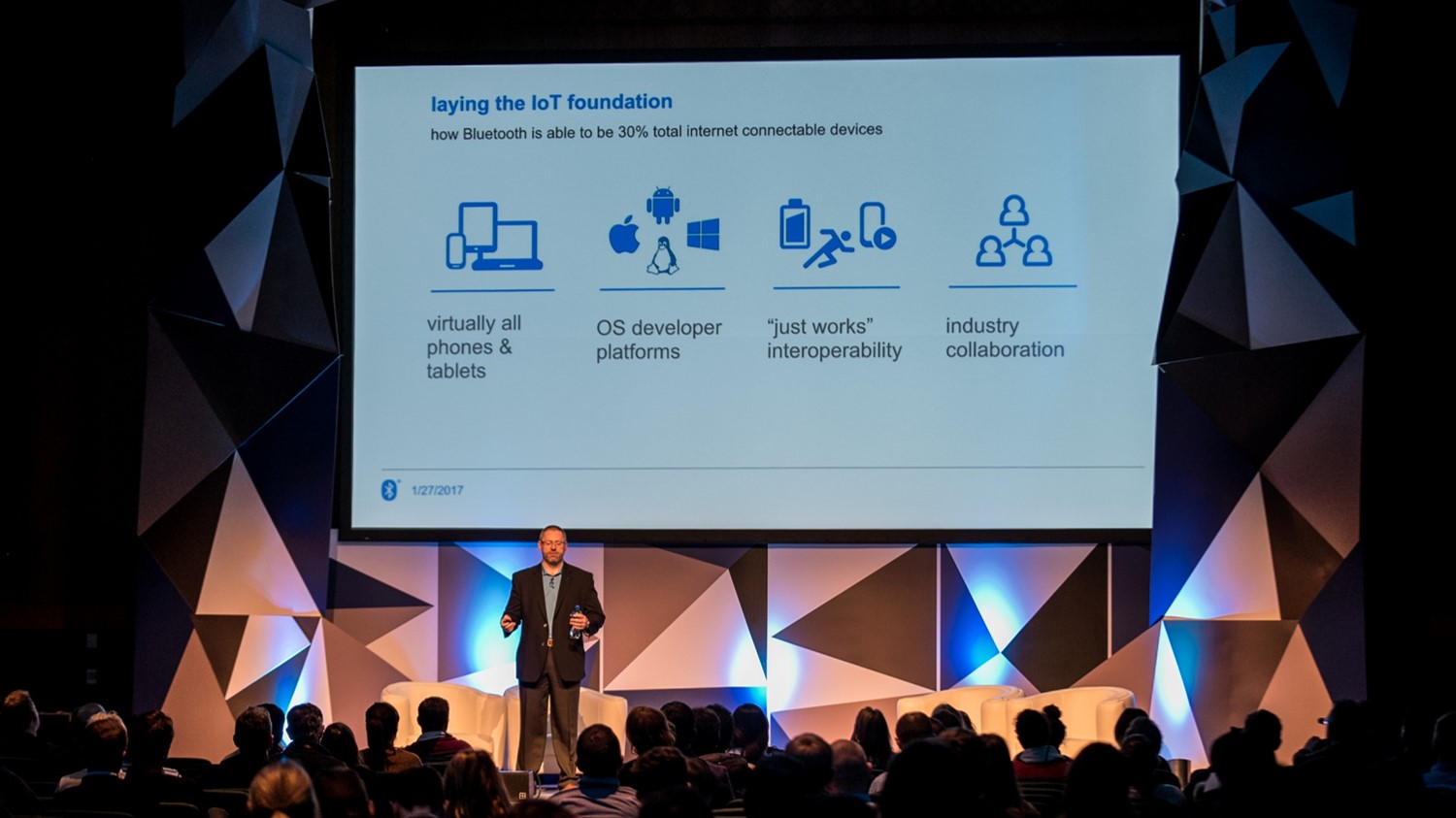 30% of the 48m connected devices predicted by 2021 will be Bluetooth and their new "beacons" – low energy transmitters that broadcast their identifier to nearby portable electronic devices – will enable smartphones, tablets and other devices to perform actions when close by.
The identifier and several bytes sent with it can be used to determine the device's physical location, track customers, or trigger a location-based action on the device such as a check-in on social media or a push notification.
One potential application is distributing messages at a specific Point of Interest, for example a store, a bus stop, a room or a more specific location like a piece of furniture or a vending machine. This is similar to previously used geopush technology based on GPS, but with greater precision and energy efficiency.
Another interesting talk was given by David Moloney, founder of Movidius, on how Ireland could become an AI tech hub. He argued that Ireland has significant talent in the field of IT, augmented by a proactive government policy to foster international tech companies to set up shop in Ireland. The result has been that Ireland has become a tech hub in Europe. He outlined how to ensure Ireland maintains and grows its reputation as an innovation hub as it transitions from the "Smartphone Revolution" to the "Machine Intelligence Revolution."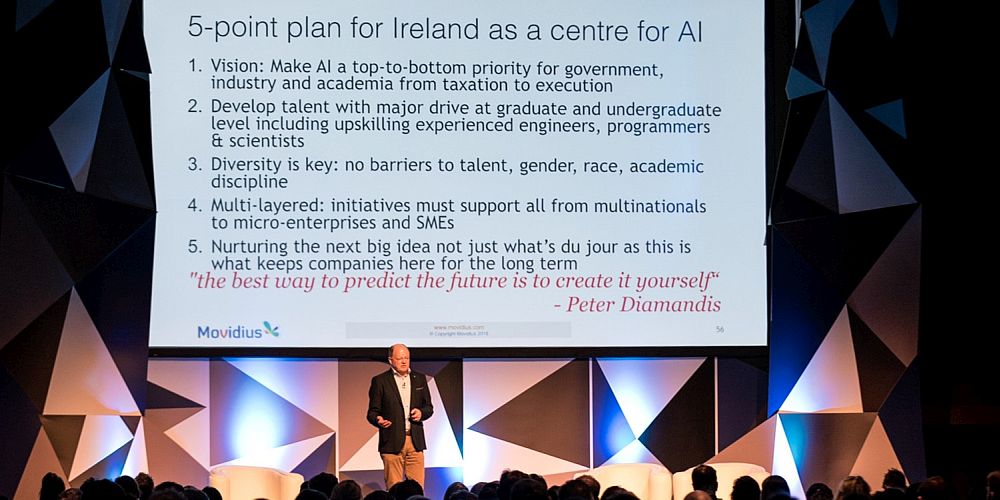 Also worth a mention was Thomas Nicholls, SIGFOX Communications Director. He gave two excellent talks – one on the connection of the physical world to the Cloud and the application of big data techniques to blur the line between the physical and digital worlds.
The second talk examined Low-Power Wide-Area Networks (LPWANs), a type of wireless telecommunication network designed to allow long range communications at a low bit rate among things (connected objects), such as sensors operated on a battery. Thomas Nicholls observed that for IoT to work, we must digitise the physical world with sensors "as dumb and cheap as car keys" and super smart networks and software. The development of multiple, cheap, single function sensors (ie measuring only heat, pressure, flow etc.) which can make themselves available to a range of sophisticated software applications could provide the foundations for super smart cities.
After all this, it seemed appropriate that there was a panel session discussing security issues around the IoT explosion, featuring David Gilbert, Reporter at VICE Media, Rik Ferguson, Vice President Security Research at Trend Micro, Sheila Colclasure, Global Public Policy and Privacy at Acxiom, Mike Smith, Solutions Architect at Sungard Availability Services UK.
There was much discussion throughout the conference about automation and the impact on jobs. While the approach was generally upbeat – yes, some jobs will vanish, but new careers will be created – there was little sense of the impact that the unprecedented speed of change would have. Does the workforce have enough time to react and retrain? Should there be a tax on robots replacing jobs? As one speaker said, "It's much easier to imagine losing your job to a robot than it is to imagine your new career in a sector that doesn't even exist right now."
Overall, Dublin Tech Summit had a great range of very high quality speakers and gave tremendous insight into some of the fastest developing technologies. It's not cheap (although I got a 50% reduction as part of the Women in Tech promotion) but it was great value, even at the full ticket price – some of the best speakers I've seen this year. I would thoroughly recommend it to anyone interested in future trends in technology.